This spring, TTC has decided to run a fundraiser during our three performances to help benefit a cause related to our show! TTC Council has chosen the Ocean Conservancy, who's mission is:
OCEAN CONSERVANCY IS WORKING WITH YOU TO PROTECT THE OCEAN FROM TODAY'S GREATEST GLOBAL CHALLENGES. TOGETHER, WE CREATE SCIENCE-BASED SOLUTIONS FOR A HEALTHY OCEAN AND THE WILDLIFE AND COMMUNITIES THAT DEPEND ON IT.
During all three performances, audience members will be able to buy raffle tickets to be entered into a drawing for an exciting Travel Themed raffle basket that we will be creating! To build this basket, we need all cast crew, and TTC students to come together and bring in donations to make this basket exciting! Below, we have created an SignUpGenius for people to use so that we can make sure we get a variety of items.
While we have made the list in the SignUpGenius, you are also welcome to bring in any additional items not on the list! If you have something else to bring in, please use the "addition item" sign up option and let us know in the comment what you are bringing!
ALL DONATIONS ARE DUE TO MRS. BACIK BY FRIDAY, MARCH 20TH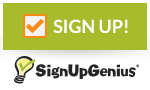 Anything Goes - Cast
Thank you to everyone who auditioned for this year's musical! We were so impressed with all of the talent that exists at Desert Vista. Thank you for supporting Thunder Theatre Company and for putting so much effort into your auditions last week. It breaks my heart to not be able to cast each and every one of you into every show we do, but please know how much I love and appreciate all of you! Thank you for all of your work and for continuing to be a part of this department.
The cast list is posted below - If you have been cast, please be sure to email me to accept/deny your role in the show ~
jploogbacik@tempeunion.org
| | |
| --- | --- |
| Reminder of Fees for Participating in Theatre at DV - if you have been cast in Anything Goes, required fees will be due by the end of the first week of rehearsal | |
This info packet contains the tentative rehearsal calendar.
​A solidified and more specific rehearsal schedule will be shared with the cast before rehearsals begin.
Anything Goes - Pre-Production Crew
Another big thank you to everyone who applied to be on a crew for this production!
​If you applied, you have been placed on your first or second choice crew.
If you feel as though you have the time to commit to two pre-production crews, please send me an email and we can discuss you being placed on a second crew!
REMINDER - There are no fees required for participating in a pre-production crew.
---

​The 2019-2020 Season